Why Partner with Adaptive?
Our breadth, depth and customisation allow you to target new and existing industries and client bases and benefit from increased and recurring revenue streams.
Adaptive was built specifically for the cloud with a security-first approach. Our solutions automate business processes, improve decision-making, collaboration and operational efficiencies, while reducing upfront and ongoing IT costs and maintenance. Clients purchase as many or as few modules as required.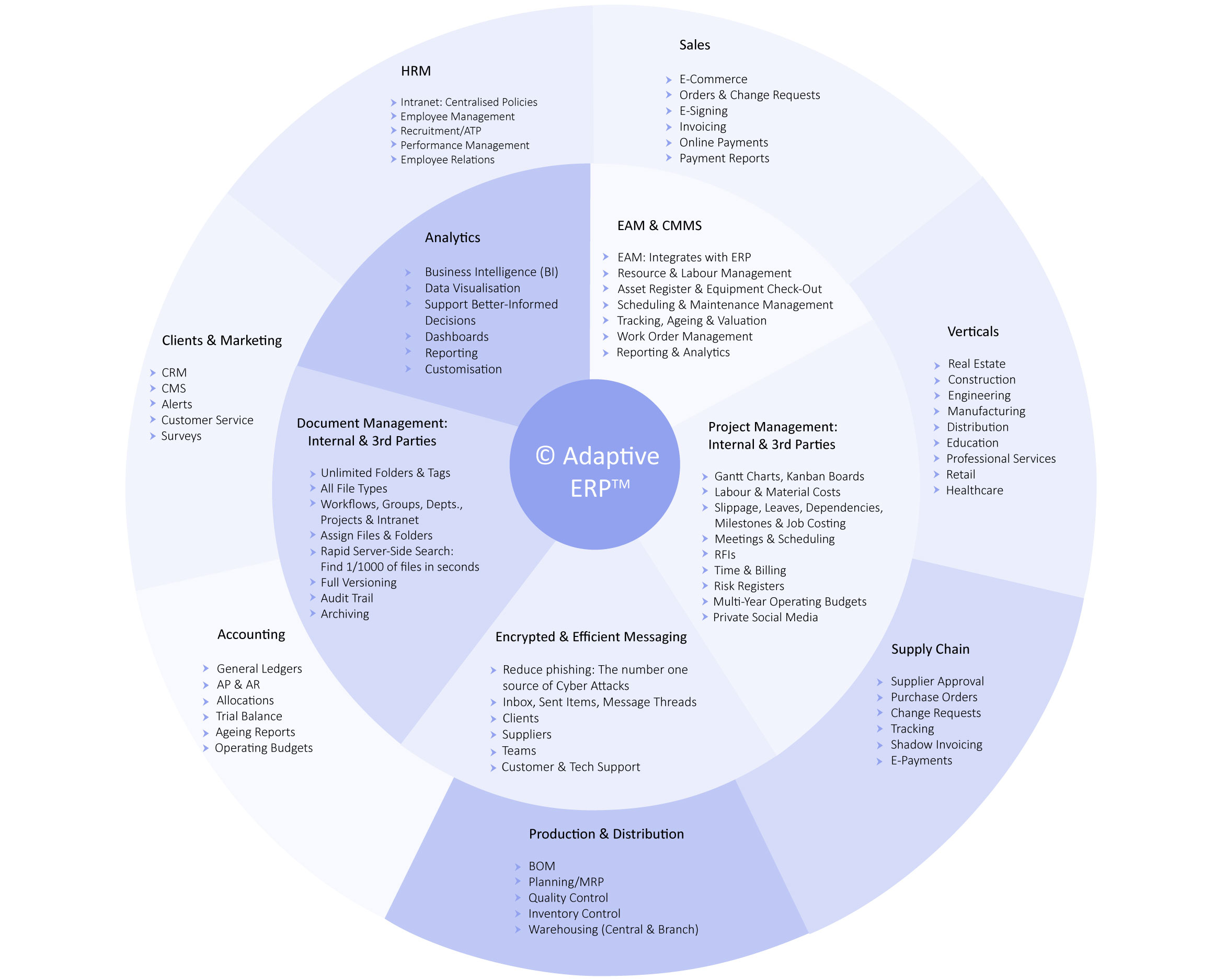 MSPs, VARs, VADs & SIs
Own the full or partial product lifecycle - optionally collaborate with other Partners or Adaptive
Consultants
Provide your clients strategic consulting and implementation or collaborate with Partners or Adaptive
Cloud Providers & Referrals
Offer our product suites to clients and tap into our partner resource network or Adaptive for implementation
Our Approach
Adaptive's Channel Partner Program (CPP) comprises of 7 Core Elements. We invest heavily in your success and support our partners through on-boarding, training, sales tools, a dedicated partner help desk, a dedicated Partner Manager, as well as demo software.
| Core Element | Rationale |
| --- | --- |
| 1. Security: | A security-first approach |
| 2. People: | A talented and diverse team |
| 3. Portfolio: | Breadth and depth across multiple industries |
| 4. Partner Platform: | Ample resources with search, to understand products, capabilities, practice demos, raise tickets with support, onboard clients efficiently, register deals and track all transactions and payouts |
| 5. Partner Success: | Training, Certification, a Dedicated Partner Manager and Ongoing Support |
| 6. Implementation: | A streamlined process for successful, high quality delivery, on time and on budget, to maximise client success and retention |
| 7. Client Success: | Excellent customer and tech support with regular monitoring and consulting where appropriate, to maximise client success and retention |
Channel Partner Outcomes
Drive digital engagement, industry-wide competitive advantages
and secure new revenue streams
Our Channel Partner Program: Key Benefits
Sales and Marketing
Accelerate sales and marketing with automation tools
Business Applications
Integrate Customisable Business Applications or full ERP suites
Customer Success Stories
Publish Customer Success Stories on Adaptive
Adaptive Marketplace
Display your Logo and Corporate Profile
to promote lead generation
Partner Badges
Earn Partner Badges and Display Certifications
Awards
Opportunities for Partner Awards
Full End-User Branding
Full Client Branding with their domain and logo. Dashboards state "Powered by Adaptive"
Free Onboarding & Training
Access Live Training, Training Resources and a Demo Portal for all your team
Quick and Easy Integrations
Low/no-code integrations require minimal technical expertise or access APIs
APIs
APIs are available for customised, more complex use cases and larger clients
A Comprehensive Portfolio
A comprehensive portfolio of software products to promote, with multiple USPs
Channel Partner Platform
A Channel Partner Platform to access resources, onboard clients and view transactions
Support
Technical, Consulting and Sales Support to help nurture prospects
Access To Consultants
An Adaptive Consultant may be able to join in on some demos/client meetings
Working Environment
A supportive and rewarding work environment

Minimum Requirements
Referrals Only
: There are no minimum requirements for Referrals. To apply complete the form below.
All Other Programs
: There are no fees to join any of our Partner Program, nor to gain Certification. However, Partners must have at least 2 Certified Members across
ANY
of the following programs:
| Certificate | Coverage |
| --- | --- |
| Sales Certification: | This includes product knowledge, the ability to demo software and understand client requirements. |
| Implementation Certification (Standard): | The focus here is business analysis - mapping the client's "as-is" and "to-be" roadmaps and handling change management and client training, to maximise the likelihood of ERP success. |
| Implementation Certification (Advanced): | Everything in Implementation Certification (Standard) , as well as the ability to handle more complex requirements, such as integration with multiple systems and full-scale ERP, or implementations for larger clients. |
| Client Training Certification: | Train clients in their test environments, before go-live. |
| Train The Trainer Certification: | Train Sales on software demos or train staff who deliver Client Training. |
| Technical Certification (Silver): | The partner can successfully implement Plugins. |
| Technical Certification (Gold): | The partner can successfully implement APIs. |

Flexibility: Partners have the flexibility to concentrate on their core skills and preferences. If you prefer a "sales only" role, you may enrol the team for "Sales Certification" and Adaptive will handle implementation, client training and technical support and provide fully hosted solutions.

Technical Support: All end-clients are provided with our Messaging module, which includes direct access to Adaptive's Customer and Tech Support.
Our Philosophy & Unique Selling Points (USPs)
| | |
| --- | --- |
| Significant Time & Cost-Savings | We offer clients breadth and depth, with a focus on time and efficiency savings. |
| "Home-cooked" not "ready-made" | Adaptive offers "home-cooked" food rather than "ready-made" to focus on quality, security and facilitate customisation |
| Enhanced Security | Each client has their own database and unique encryption key. All client data is segregated. Our 2-FA Login is akin to bank grade security and there are no listings in the CVE Mitre (Global Vulnerability) Database. Book a call to discuss our unique approach to security |
| Fraud Risk Mitigation | Multiple Internal & External Fraud Risk Controls |
| Implementation | Risk-Based Access Controls and Business Analysis to ensure software flows match client business flows, with training and a test environment before go-live |
| Key-Based 2-FA | Key-Based 2-Factor Authentication login, using a PIN which is never transmitted or stored and would fail after a few incorrect attempts. The PIN is entered onto a special keypad so keyloggers (malware) could not detect the PIN. Users enter their PIN then click on a matching image - this protects against BOTs, making it close to hack-proof |
| APIs & Plugins | Our APIs and Plugins each rely on A-Auth (Adaptive Authorization) and numerous additional measures to block malicious intruders |
Channel Partner Application